LEWU CHRISTMAS CAMP 2022
Our Holiday Campuses are aimed at children and teenagers from 3 to 17 years old, who want to learn the language used in Valencia (English or Spanish for foreigners) within a programme of linguistic immersion and coexistence with students of different nationalities. You can enjoy our  English Camp and Spanish Camp in Valencia at Christmas, Easter and Summer.
For the school holidays of 22 in Valencia we offer our Christmas, Easter and Summer Camp, especially designed for the entertainment and learning of your children during these dates, and of course, not least, to help you parents with work and personal conciliation.  You can't miss any of our Holiday Campuses!
This Christmas school holidays 2022 in Valencia and following our own educational method, we have prepared a super programme for children and teenagers to learn languages (English or Spanish for foreigners) through an endless number of practical classes, workshops and sports and leisure activities.
ENROLMENT OPEN UNTIL 10 DECEMBER 2022/ DATES: 26 DECEMBER TO 5 JANUARY
PRICES 26/12/21-05/01/2022: 350 €  Schedule 9.30-16.30. Minimum 20 students.
Part time/9.30-14.00h : 223€  One day full time 45 € & part time 35€.
5 % discount for our language school students and alumni.
5% discount for two and 3 siblings.
10% discount for the 4th sibling.
7 % discount for groups of 10 people.
NON-CUMULATIVE DISCOUNTS.
OUR PROGRAMME
The programme consists of daily lessons in the chosen language (school material included) and all activities are taught 100% in English or Spanish for foreigners. It is forbidden to speak your mother tongue 🙂
The teachers and monitors are native or bilingual and the students will be under the technical supervision of coordinators and management, in a framework of coexistence and integration with students of different nationalities.
The daily language workshops are diverse: what's your talent, LEWU News, forest-school, role-playing, storytelling, karaoke, board games, escape games, cooking, recycling, technology, experiments, theatre, dance, plastic arts and brain teasers.
We also complete our daily programme with original weekly parties where both teachers and pupils enjoy themselves like children.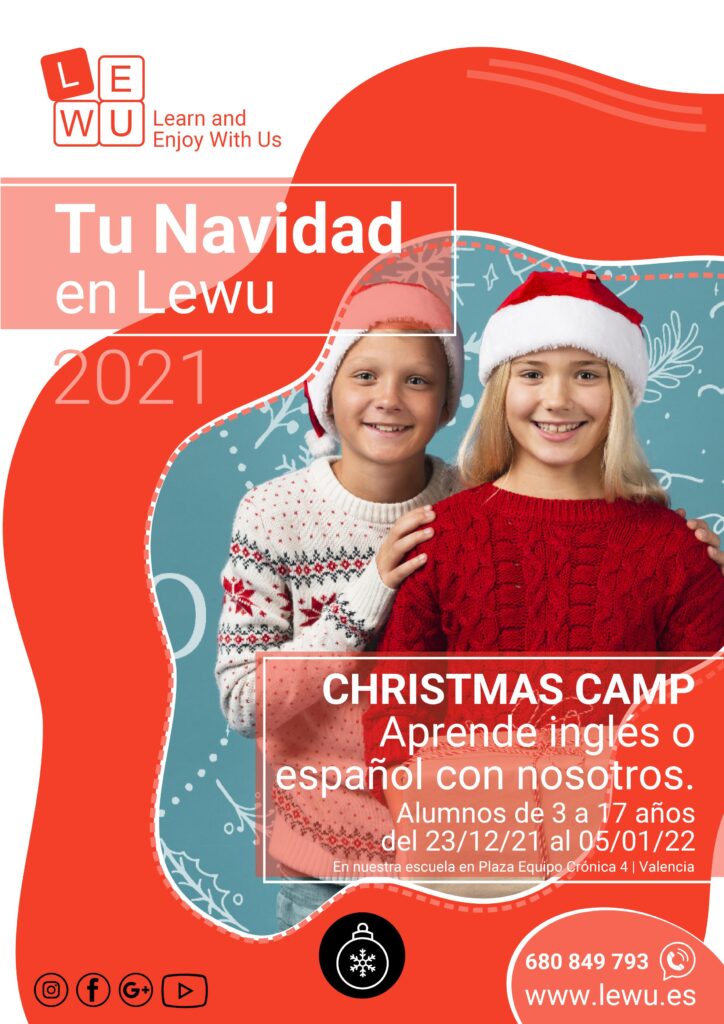 LEARN IN A DIFFERENT WAY
This Christmas 2022 we have prepared a fun-filled Christmas Camp in Valencia! We are located in Valencia city: Plaza Equipo Crónica 4 CP 46023.
You can also enjoy our camps at Easter and Summer 2023 in Puzol, near the beach and montains!
This year we deserve that and more, and that's why we want our students to feel at home and enjoy themselves as they deserve.
They will learn English or Spanish through unconventional classes and of course, they will practice their favourite sports and hobbies, meet new friends, cultures and of course they will do handicrafts and cooking workshops.
They will relax with daily yoga, meditation and mindfulness, learn more about nature and strengthen their self-esteem and independence with the Forest School and Positive Psychology and, finally, they will enjoy Escape Room, Gymkanas, sports championships and the best theme parties!